Applying molecular and systems modeling to drug discovery and development
Identifying and validating novel therapeutic targets for infectious, immune mediated and chronic inflammatory/metabolic diseases.
Testing the mechanism of action, efficacy and safety of new compounds in animal models of disease.
Conducting human clinical trials to validate the results of animal models.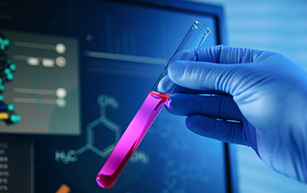 The NIMML has established an extensible innovation pipeline for developing safer and more effective therapeutics for immune-mediated, infectious and chronic inflammatory diseases.
Developing host-targeted, broad-based therapeutics for respiratory and enteric infections
Characterizing the mechanisms of action of host-targeted therapeutics
Examining the modulation of innate and immune responses to flu by LANCL2
The NIMML has identified novel naturally occurring compounds that modulate host immune responses during influenza virus infection. We characterized their molecular target and mechanism of action involving activation of the lanthionine synthetase C-like 2 pathway
The Nutritional Immunology and Molecular Medicine Laboratory at the Virginia Bioinformatics Institute is actively involved in economic development. We offer a diverse portfolio of patents and intellectual property and seek to establish key strategic alliances with pharma and biotech companies, which will help us to translate our new scientific discoveries from the laboratory bench to the global market.
Spin off Companies Licensing NIMML's Technologies:
BioTherapeutics, Inc
BioTherapeutics, Inc. is a pre-clinical stage company developing novel small-molecule drugs to treat inflammation associated with autoimmune related disorders and metabolic diseases.