A Vision for Personalized Nutrition from Chief Editor of Frontiers in Nutrition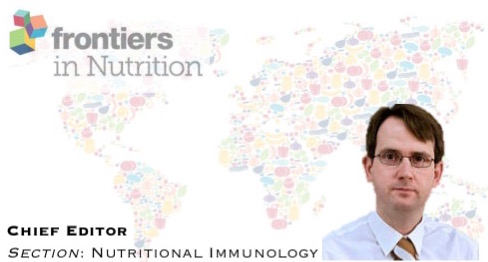 Josep Bassaganya-Riera, the director and founder of Nutritional Immunology and Molecular Medicine Laboratory (NIMML) and Chief Editor Frontiers in Nutrition won 2017 Innovator award presented by the Roanoke-Blacksburg Technology Council (RBTC) during its 18th annual TechNite awards banquet. The RBTC TechNite 2017 event is the largest yearly gathering to recognize influential leaders in business and innovation.
"Transformative innovation is only possible with the unwavering resolve, hard work, loyalty and dedication of a fantastic group of individuals. I am proud that the NIMML team and Frontiers in Nutrition share a vision for the future of precision medicine and health. By focusing on a unique iterative integration of large-scale clinical record mining, informatics analyses and computer modeling. We are making tangible progress toward the personalized treatment of diseases." Bassaganya-Riera, said.
During Virginia Tech's most recent TEDx event, Prof. Bassaganya-Riera elaborates on his vision for precision medicine and health. He explains how the modeling and simulation of immunological systems helps in capturing the variation and diversity at an individual level. Having access to this human variation offers clinicians and patients a more rapid pipeline between clinical trials and personalized, individual treatments that are safer and more effective.
NIMML studies human diseases as complex massively and dynamically interacting systems. Nutrition is a critical regulator or immunity, microbiome and metabolism. NIMML and Frontiers in Nutrition share a revolutionary vision for precision, personalized medicine, which will be delineated in an upcoming Grand Challenges issue of Frontiers.
About NIMML
The NIMML tackles unsolved fundamental challenges in complex human diseases with unmet clinical needs. The NIMML combines advanced computational technologies such as computer modeling and artificial intelligence with pre-clinical and clinical experimentation to catalyze the translation of scientific discoveries into creative solutions to the most challenging problems in healthcare. NIMML is located in Blacksburg, VA.
For more information:
NIMML Contact:
Josep Bassaganya-Riera
540.818.2844