NIMML Announces Publication on the Safety, Efficacy and Novel LANCL2 Mechanism of Action of Omilancor in Inflammatory Bowel Diseases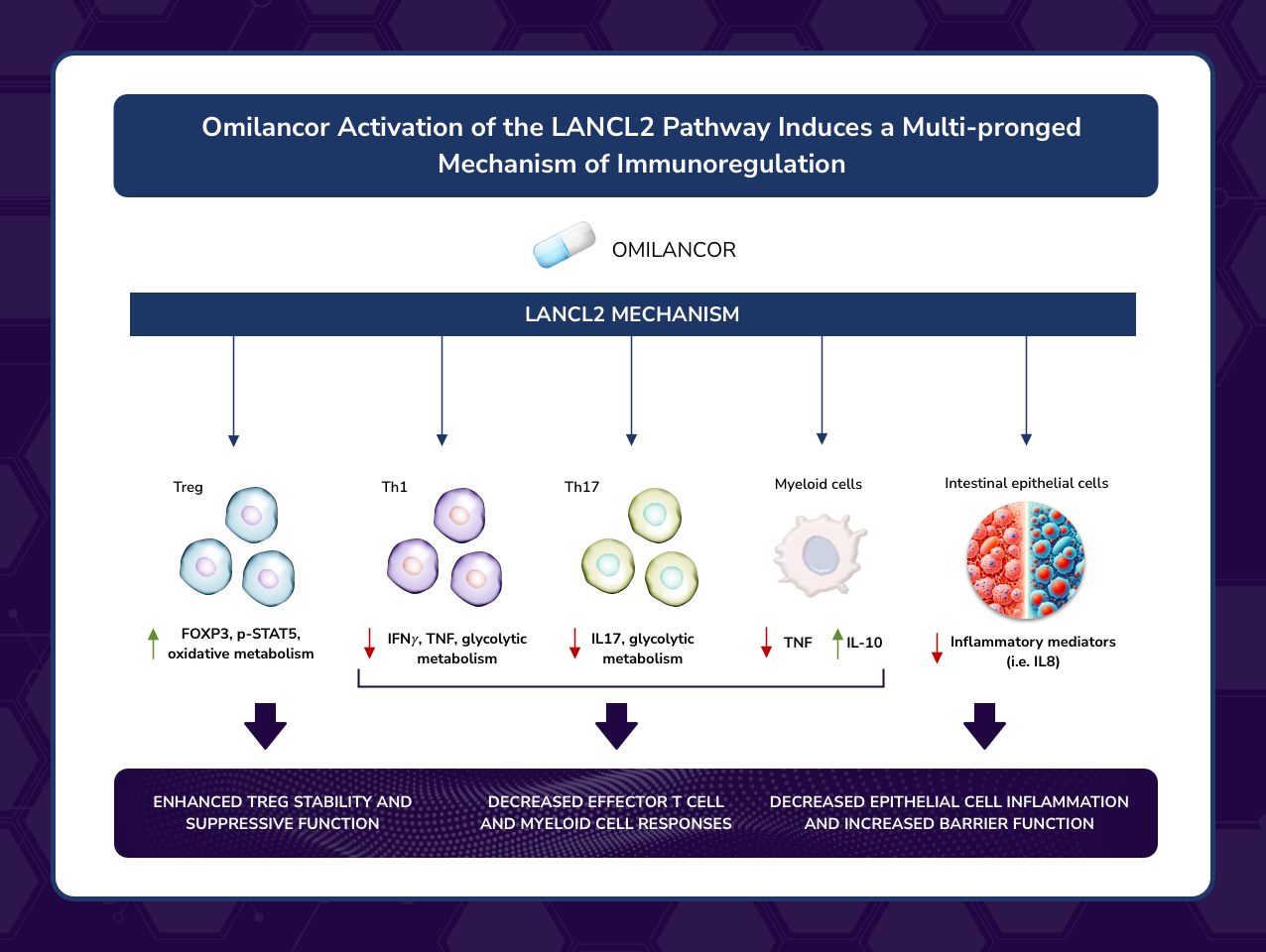 This publication describes novel LANCL2-based immunoregulatory mechanisms that enhance regulatory T cells (Tregs) anti-inflammatory functions by amplifying IL-2 signaling and promote T cell metabolic reprogramming resulting in enhanced mitochondrial metabolism
Once-a-day oral dosing with omilancor induced clinical remission in 30.4% of active Ulcerative Colitis (UC) patients versus 3.7% in the placebo group (Δ=26.7%, P = 0.01)
These new insights on LANCL2 immunometabolic mechanisms and positive clinical findings support the development of LANCL2 therapeutics such as omilancor for the treatment of UC, CD, psoriasis, and other autoimmune diseases
Blacksburg VA, November 2, 2023 – The NIMML Institute ("NIMML"), a 501 (c) (3) nonprofit foundation dedicated to the discovery of novel precision medicines for infectious and autoimmune diseases, today announced the publication of an article that describes a novel LANCL2-based immunoregulatory mechanism and demonstrates the efficacy of omilancor, a first-in-class, oral, once-daily, LANCL2-activating therapeutic candidate for patients with autoimmune diseases, with an initial focus on ulcerative colitis and Crohn's disease. These novel mechanistic insights, clinical, and translational findings were published in a recent publication in Inflammatory Bowel Diseases ("IBD Journal").
"By outlining the novel immunoregulatory mechanisms mediated by LANCL2 activation in the gut mucosa leading to immune tolerance, this publication unveils the first-in-class efficacy and safety of oral omilancor in treating Ulcerative Colitis and Crohn's disease," said Dr. Josep Bassaganya-Riera, Founder of NIMML and corresponding author of the study. "New mechanistic insights demonstrate how activation of LANCL2 by omilancor reduces mucosal inflammation and effector responses while enhancing regulatory responses in IBD. The clinical validation of the LANCL2 pathway postulates omilancor and other LANCL2 therapeutics as promising therapeutic modalities to intercept the pathogenesis of IBD and other autoimmune diseases and induce therapeutic efficacy by facilitating the production of fully functional Tregs, down-regulating excessive or dysregulated effector responses and generating long-lasting immune tolerance."
"This recognition of a novel immunometabolic mechanism of action for treating UC and CD in IBD Journal is a testament to our advanced computational capabilities for drug development exemplified by our TITAN-X Platform, experienced research team, and the positive clinical results that our clinical trials have produced with regard to our expansible LANCL2 therapeutic portfolio," continued Dr. Bassaganya-Riera. "Following publication of positive clinical results in UC and CD, and the FDA approval of our Phase 3 program for UC, we remain steadfast in our mission to develop safer and more effective therapeutics that address the unmet clinical needs of IBD patients in the U.S. and worldwide."
This review outlines a new treatment modality for autoimmune and inflammatory diseases based on the pharmacological activation of the LANCL2 pathway, a new immunometabolic mechanism that enhances Treg function while decreasing excessive effector immune responses such as Th1 and Th17. More specifically, this manuscript discusses in-depth the therapeutic potential of LANCL2-targeting therapeutics such as omilancor, and how this new treatment modality has the potential to induce long-lasting clinical remission without the adverse side effects typical of current drugs, thereby addressing the unmet clinical needs of many patients with autoimmune diseases, starting with IBD.
Three posters with positive clinical and translational data on omilancor and LANCL2 activation in UC and CD were recently presented at the American College of Gastroenterology 2023 Annual Scientific Meeting. These posters are available under the "Publications" section of the NIMML's website at www.nimml.org. Additionally, the peer-reviewed abstracts have been published verbatim in a special supplement to the October 2023 issue of The American Journal of Gastroenterology.
About Omilancor
By activating the LANCL2 pathway and modulating the interactions between immunological and metabolic signals in immune and epithelial cells, omilancor is a first-in-class, oral, once-daily, gut restricted therapeutic designed to create a favorable regulatory microenvironment in the gut, decreasing the production of key inflammatory mediators and increasing anti-inflammatory functions in regulatory T cells (Treg) within the site of inflammation. Omilancor has completed Phase 2 clinical testing in UC patients showing a clinical remission of 30.4% with a placebo-adjusted 12-week clinical remission rate of 26.7% (p=0.01) for the 440 mg dose. Following demonstration of a statistically significant approvable primary endpoint for clinical remission in an active disease patient population, A global pivotal Phase 3 program (PACIFY I and PACIFY II trials) in UC patients is planned for the second half of 2023.
About NIM-1324
NIM-1324 is an oral, systemically distributed, small-molecule therapeutic candidate which activates LANCL2, a surface membrane-associated receptor that is responsible for modulating key cellular and molecular changes tied to autoimmune diseases. By activating the LANCL2 pathway, NIM-1324 increases the anti-inflammatory capacity and stability of regulatory CD4+ T cells while also supporting the metabolic demands of autophagy in phagocytes. To date, treatment with NIM-1324 has reduced the production of interferon alpha in human peripheral blood mononuclear cells (PBMCs) from systemic lupus erythematosus (SLE) patients and provided protection from clinical disease and tissue pathology in mouse models of lupus, rheumatoid arthritis, and multiple sclerosis. Phase 2-ready NIM-1324 completed Phase 1 clinical testing where it met all endpoints and demonstrated a dose proportional change in plasma exposure within the therapeutic range with no accumulation.
About NIMML
The NIMML Institute is a 501 (c) (3) non-profit foundation focused on applying transdisciplinary, team-science approaches to precision medicine. The NIMML Institute applies its TITAN-X advanced A.I. platform to large-scale transdisciplinary projects aimed at solving important public health problems through precision medicine. NIMML combines the expertise of immunologists, computational biologists, toxicologists, computational modelers, translational and clinical researchers, and molecular biologists to translate novel scientific discoveries into medicines for human diseases. The Institute is headquartered in Blacksburg, VA. For more information, please visit www.nimml.org or contact pio@nimml.org.
Media Contact:
Alex Jeffrey/Iain Hughes
Gasthalter & Co.
212.257.4170