NIMML Showcases its Advanced Computational Modeling Platform for Biodefense at the 2019 DTRA Life Science Technical Review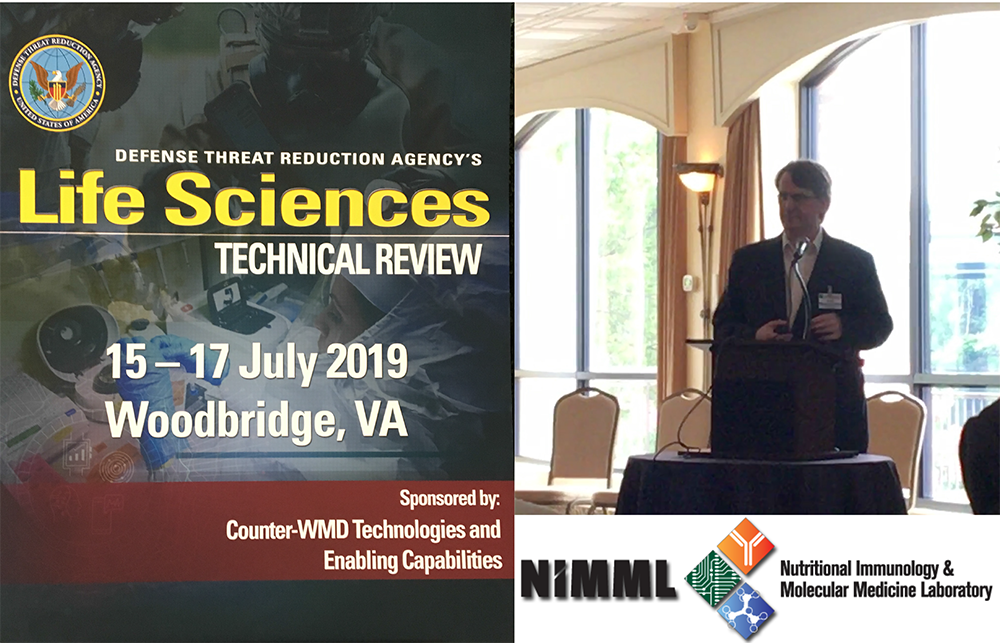 BLACKSBURG VA, July 20th, 2019 – The Nutritional Immunology and Molecular Medicine Laboratory (NIMML) presented its latest research on computational modeling for biodefense during the 2019 DTRA Life Science technical review (LSTR) held July 15th-17th, 2019, at the Harbor View, Woodbridge. The objective of this DTRA Technical Review was to advance the development of new countermeasures for weapons of mass destruction (WMD). The meeting was hosted by Colonel Benjamin Ward, Deputy Chief, Enabling Capabilities, Dr. Heather Meeks and Dr. Peter Vandeventer, Program Officers of DTRA.
NIMML's computational modeling efforts under this DTRA program are co-led by Drs Bassaganya-Riera and Hontecillas. They build on previous research conducted by the Center for Modeling Immunity to Enteric Pathogens under the Modeling Immunity for Biodefense (MIB) program, a $12 million NIAID-funded Center led by Dr. Bassaganya-Riera, the Director of NIMML and PI of this DTRA project.
"The application of advanced computational technologies in combination with cutting-edge biomedical experimentation has the potential to accelerate the development of countermeasures for WMDs," said Dr. Josep Bassaganya-Riera, NIMML Director. "This DTRA project is developing advanced computational models that can simulate the dynamics of the host immune response during a toxicogenic bacterial exposure. Ultimately, these models will facilitate the quick development of safer and effective countermeasures against WMDs."
"Generalizable computational models of host responses to biological threats are used as platforms for integration of results obtained in the lab and clinical data from patients. In the event of an attack with WMDs, they could be used to evaluate in real time the particular characteristics of the outbreak and accelerate the choice of treatment." Said Dr. Raquel Hontecillas, Co-director of NIMML and co-PI of this DTRA project.
While the NIMML DTRA project is centered on modeling the kinetics of host responses to biological threats, the 2019 LSTR also encompassed novel research related to studying the effects of ionizing radiation and identifying new genetic signatures and biomarkers associated to radiation exposure to further dissect the mechanisms that induce resistance to radiation plus develop novel biosensors and countermeasures.
Related Press Releases
NIMML awarded a new DTRA grant
Advanced Computational Modeling of the Gut for Biodefense
Accelerating the Path to Cures: New Insights on the Application of Advanced Computational Approaches in Drug Development
Artificial Intelligence: The Next Revolution in Healthcare and Precision Medicine
About NIMML
The NIMML Institute is a 501 (c) (3) non-profit public charity foundation focused on a transdisciplinary, team-science approach to precision medicine at the interface of immunology, inflammation, and metabolism. The NIMML Institute team has led numerous large-scale transdisciplinary projects and is dedicated to solving important societal problems by combining the expertise of immunologists, computational biologists, toxicologists, modelers, translational researchers, and molecular biologists. The Institute is headquartered in Blacksburg, VA. For more information, please visit www.nimml.org or contact pio@nimml.org.