PERVIDA GUT HEALTH FUNCTIONAL BEVERAGE TO BE SOLD AT OVER 279 COST PLUS WORLD MARKETS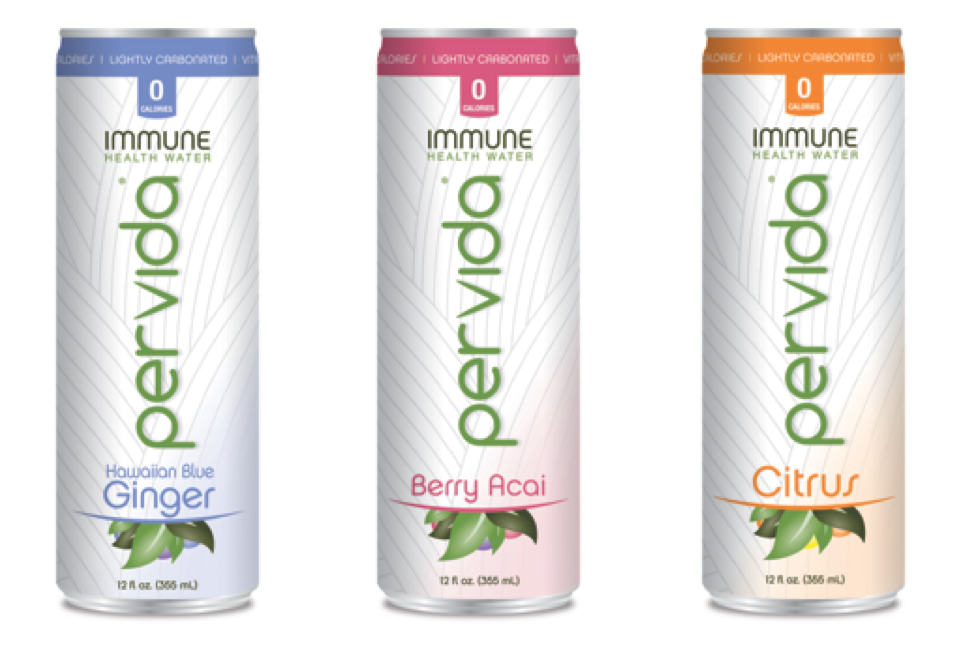 BLACKSBURG, VA (August 7, 2018) – Pervida has developed a revolutionary and innovative solution to improving gut health, and now it is available at over 279 Cost Plus World Markets (www.worldmarket.com) in 37 states.
Pervida Immune capitalizes on the scientifically-proven, patented technology of pomegranate seed oil (PSO) to help ease the discomfort caused by overactive inflammatory responses in the gut and improve gut health. Pervida's flagship product–Pervida Immune–promotes gut health and supports immunity by incorporating cold-pressed PSO, a rich source of punicic acid (PUA). There are currently no other beverages on the market that contain PSO – not even pomegranate juice. Every component of Pervida Immune has been carefully selected to maximize its gut health benefits, from the vitamin blend to the carbonation level. Every can is formulated with small batch craft fruit essences for an elegant balance of flavor, refreshment, and gut health.
"Pervida has made great strides since the launch of its flagship product, Pervida Immune in 2017. We are excited to partner with Cost Plus World Markets in the national distribution phase of the Pervida brand. Entering national distribution is timely given that Pervida will launch Pervida Calm, a new line of functional beverages with CBD in the Fall," said Dr. Josep Bassaganya-Riera, Pervida's Founder, Chairman, and CEO.
Based in California, the Cost Plus World Market is well known for its eclectic assortment of unique and authentic home furniture, décor, tabletop items and jewelry and accessories from around the world. Cost Plus World Market buyers travel the globe visiting remote villages, centuries-old factories and foreign bazaars and markets, searching for affordable products to offer their customers; including baskets from the Philippines, chocolates from Belgium, pottery from Portugal, collectibles from Africa, and international gourmet food and drinks.
Pervida utilizes the brand management services of Cascadia Managing Brands based out of Ramsey, NJ, to assist with their sales and marketing efforts.
About Pervida
Pervida is an award-winning beverage company that develops new functional drinks with all natural ingredients and scientifically proven & patented health benefits. Pervida's flagship product, Pervida Immune, promotes gut health and supports immunity. Pervida Immune gut health benefits are backed with 10 years of scientific research.
For more information, please contact us at info@pervida.net, follow us on social media: @PervidaHealth or visit www.Pervida.com
About Cost Plus World Market

Cost Plus World Market (www.worldmarket.com) has 279 stores in 36 states and the District of Columbia under the World Market® and Cost Plus World Market® trademarks. The stores feature an ever-changing selection of casual home decor and furniture, housewares, gifts, jewelry, decorative accessories, over 500 international wines, gourmet foods and beverages offered at affordable prices and imported from more than 50 countries. Many items are unique and exclusive to World Market and are regularly supplied by an international network of individual and regional artisans developed over the Company's more than 50 years in the import business.
About NIMML
The NIMML Institute is a 501 (c) (3) non-profit public charity foundation focused on a transdisciplinary, team-science approach to precision medicine at the interface of immunology, inflammation, and metabolism. The NIMML Institute team has led numerous large-scale transdisciplinary projects and is dedicated to solving important societal problems by combining the expertise of immunologists, computational biologists, toxicologists, modelers, translational researchers, and molecular biologists. The Institute is headquartered in Blacksburg, VA. For more information, please visit www.nimml.org or contact pio@nimml.org.