Pervida Wins Technology Company of the Year Award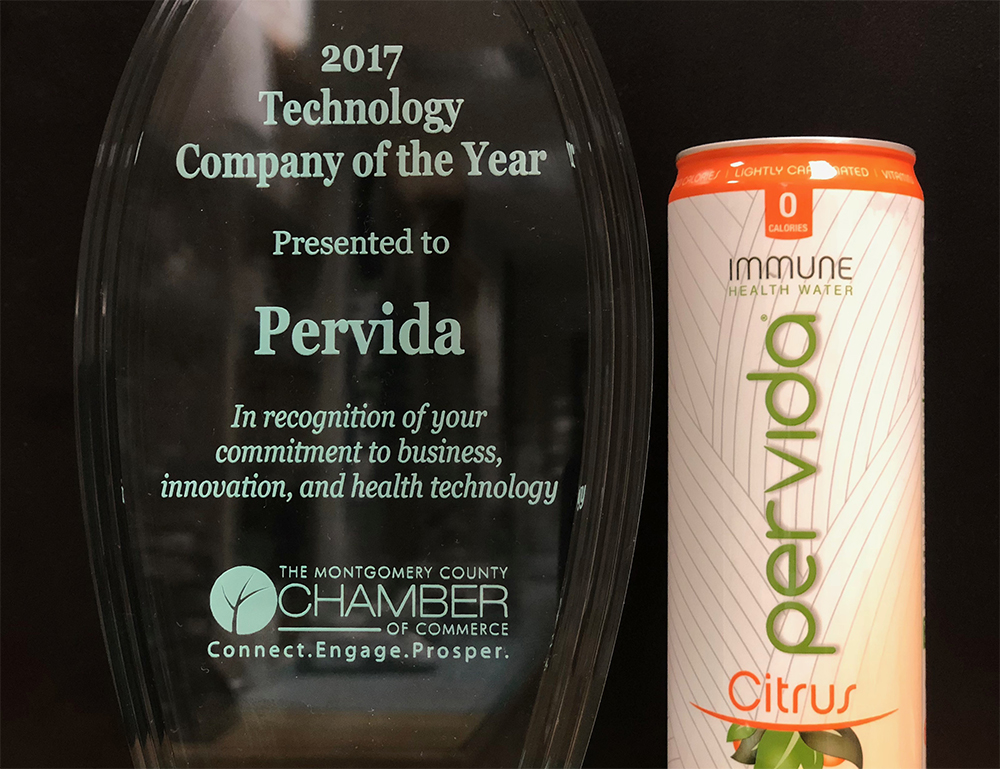 Blacksburg, Va. (December 9, 2017) – Local nutritionals company Pervida won the 2017 Technology Company of the Year Award with their flagship product, Pervida Immune Citrus—a beverage that leverages the scientifically-proven benefits of pomegranate seed oil (PSO) and its active ingredient, punicic acid (PUA). Both great tasting and refreshing while promoting immune and gut health, Pervida is a category innovator and a first step toward a new class of beverages for personalized nutrition and health.
It is not typical for a beverage company to win such a prestigious award specific to technology.
The technology behind Pervida's flagship product, Pervida Immune Citrus, maximizes on the patented benefits of cold-pressed pomegranate seed oil. Infused with the scientifically proven immune properties of cold-pressed PSO for gut health. Pervida, unlike any other beverage on the market, holds two patents related to the benefits of PUA, in supporting the immune system and promoting gut health.
"This groundbreaking product hit all four tech categories: one, a product in the market; two, it had a patent; three, secured funding; and four, a company that we want in our own backyard," said Sharon Scott, Executive Director of the Montgomery County Chamber of Commerce.
"Pervida has made great strides in its 2017 go-to-market strategy by launching its flagship product, Pervida Immune. Pervida Immune is a category innovator in a robust pipeline of functional waters. I am deeply honored to accept the 2017 Technology Company of the Year award," said Josep Bassaganya-Riera, Director of the Nutritional Immunology and Molecular Medicine Laboratory (NIMML).
Headquartered in Blacksburg, Va., Pervida has received a tremendous outpouring of community support since its inception. Pervida Immune is available through the Pervida website, in 5 Amazon warehouses, including a strategic vendor partnership with Amazon, and in 200 independent accounts. The excitement of local retailers to feature Pervida within their stores has supported the national distribution of this revolutionary functional water.
"The support and excitement for Pervida within our local community has undoubtedly contributed to our success with national distribution. Montgomery County is a place Pervida is proud to call home," Bassaganya-Riera said.
Pervida was also honored in 2017 as a NEXTY Finalist, in association with the Natural Products Expo East and the New Hope Network, which was another tremendous honor and major industry recognition.
Bassaganya-Riera said, "Pervida is disrupting a $15 billion beverage business by incorporating the concept of beverage as technology, which is supported by sound science and proprietary, patented ingredients. This award recognizes and honors the tremendous amount of work the Pervida team has dedicated to advancing our mission."
About NIMML
The Nutritional Immunology and Molecular Medicine Laboratory (NIMML) tackles unsolved challenges in complex human diseases with unmet needs. We combine advanced computational technologies with preclinical and clinical experimentation to catalyze translation of scientific discoveries into commercial applications that address unmet clinical or consumer needs.
About Pervida Immune Citrus
Pervida Immune Citrus was launched in 2017 as a categorically different beverage. This functional water promotes gut health and immunity by incorporating Pomegranate Seed Oil, which contains a potent antioxidant, punicic acid. In addition to the gut health and immune health benefits, Pervida is also zero calories, contains no artificial sweeteners, is vitamin enriched and high in antioxidants. This beverage, often described as crisp and refreshing, is flavored with small batch craft fruit essences and is lightly carbonated.
Based on the success of Pervida Immune Citrus, two additional flavors are expected to be released in the first half of 2018, Berry Acai and Hawaiian Blue Ginger. Additionally, a new product line targeting sugar control is in development, with an expected release within the first half of 2018.
About Josep Bassaganya-Riera
Josep Bassaganya-Riera, Pervida's and NIMML's Founder, has published over 150 peer-reviewed publications related to nutrition and health, has founded 3 startup Companies, raising over $65 million in non-dilutive and equity financing rounds, and was recently named 2017 Innovator of the Year by the Roanoke-Blacksburg Technology Council. Our Founder is a captain of industry, innovator, serial entrepreneur, and a thought leader in biotech. Dr. Bassaganya-Riera, and his companies have been active members of a statewide group that supports the planning behind the Governor's 2015 Virginia Bioscience Initiative. Dr. Bassaganya-Riera is also a prominent member of the Blacksburg community and was a featured presenter at the Governor's Forum on Bio and Big Data in Northern Virginia.
For more information