NIMML Presents Positive First-in-Human Data of NIM-1324, a Phase 2 Candidate for Systemic Lupus Erythematosus at the American College of Rheumatology Convergence 2023 (#ACR23)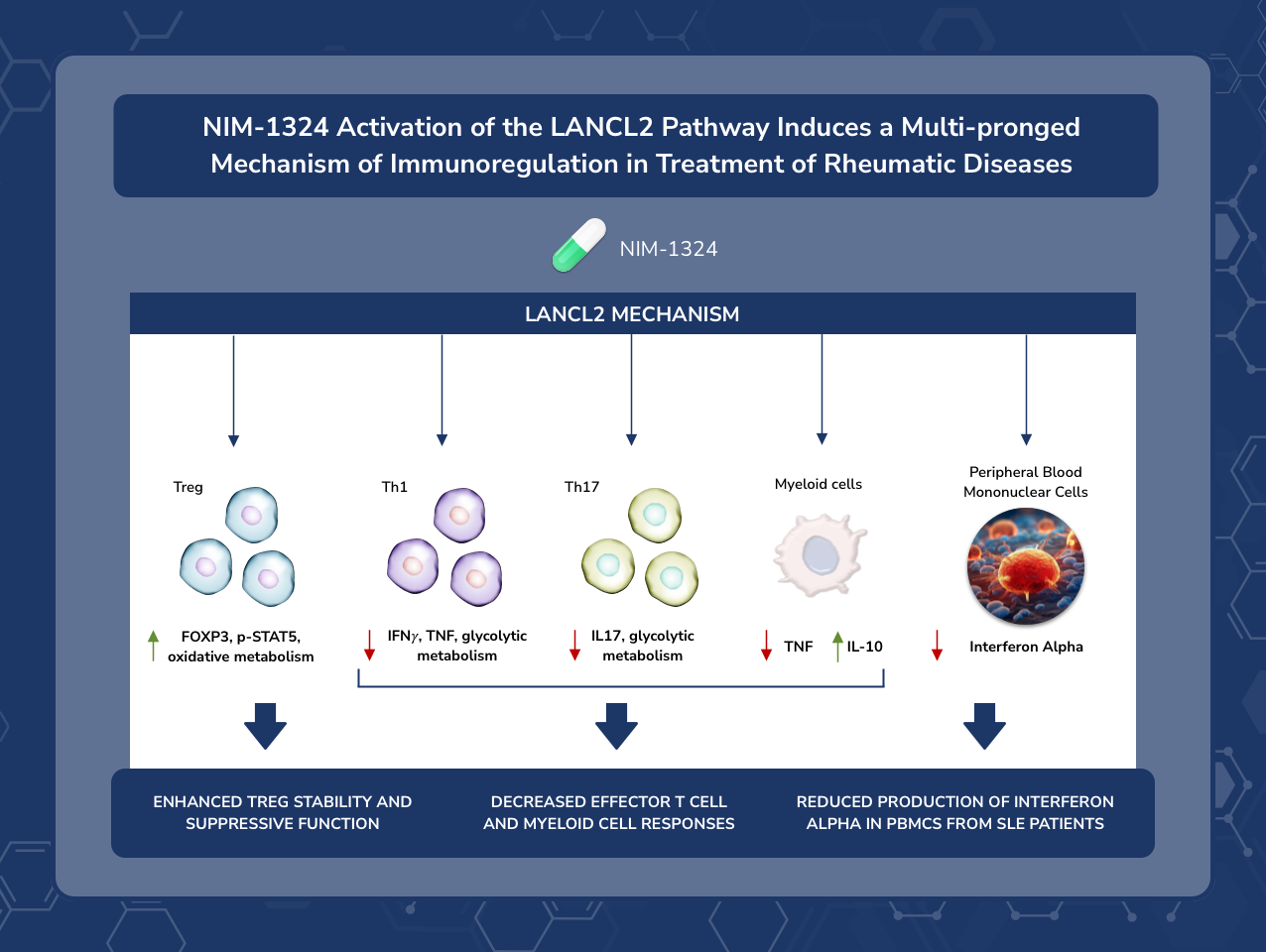 First-in-human clinical trial of NIM-1324 met all primary and secondary endpoints
Daily oral treatment with NIM-1324 is well-tolerated and safe with no dose-limiting toxicities
Oral treatment with NIM-1324 induces a dose-proportional change in plasma exposure within the therapeutic range of 250 to 1000 mg/d with no accumulation
Results support further development of a whole blood biomarker generated by TITAN-X A.I.-powered platform that predict SLE responders to NIM-1324
Phase 2 program for NIM-1324 in SLE patients is planned for 2024; Top line Phase 2 data by 2025
Blacksburg, VA, November 14, 2023 – The NIMML Institute ("NIMML"), a 501 (c) (3) nonprofit foundation dedicated to the discovery of novel precision medicines for infectious and autoimmune diseases, today announced that an abstract on positive Phase 1 clinical results of NIM-1324, a once-daily, oral, systemically distributed LANCL2 agonist therapeutic for the treatment of rheumatic diseases, will be presented at the American College of Rheumatology's (ACR) annual meeting. ACR Convergence 2023 will take place from November 10-15, 2023, at the San Diego Convention Center in San Diego, California, with NImmune's poster presentation to take place on Tuesday, November 14 from 9:00 am – 11:00 am.
"Systemic lupus erythematosus (SLE) has a very high unmet medical need. First in human results of our wholly-owned NIM-1324 in SLE met all primary and secondary endpoints of safety and tolerability. Together with results of a companion blood-based precision medicine diagnostic, we are highly encouraged by the potential of NIM-1324 to offer the first-in-class precision therapeutic for SLE with a novel mechanism of action with no dose-limiting toxicities." said Dr. Josep Bassaganya-Riera, Founder and President of NIMML. "Following our recent announcement of positive Phase 2 results of Omilancor and clinical validation of the LANCL2 pathway in Ulcerative Colitis and Crohn's disease, we are pleased to report the advancement of our second therapeutic candidate into Phase 2 clinical development for Lupus with fast follower opportunities in other autoimmune diseases. First patient in the planned Phase 2 trial of NIM-1324 in SLE is anticipated in 2024 with top line results likely by 2025."
Clinical results of NIM-1324 presented at ACR'23 leverage the TITAN-X platform, an A.I. discovery and development platform that has guided the development of NImmune's LANCL portfolio of therapeutics, includes NIM-1324 and omilancor. Both omilancor and NIM-1324 are oral, once-daily agonistic therapeutics that bind and activate the LANCL2 pathway. Omilancor is designed for targeted delivery in the gastrointestinal tract for IBD indications, and NIM-1324 is designed to be highly systemically distributed for indications such as lupus and rheumatoid arthritis.
Presentation Details
Title: Safety and Tolerability of NIM-1324, an Oral, Once-daily LANCL2 Agonist, in a Randomized, Double-Blind, Placebo-Controlled Phase 1 Study in Normal Healthy Volunteers.
Poster: Session SLE, Treatment Poster III, Tuesday November 14th, 9:00 AM – 11:00 AM.
Single or multiple oral dosing with NIM-1324 for up to 1500 mg/d did not result in severe adverse effects (AE) or increased total AE rates compared to placebo.
No significant findings were observed by biochemistry, coagulation, hematology, or urinalysis relative to placebo.
Dose-proportional change in plasma exposure within the range of 250 to 1000 mg/d was reported with no accumulation during the dosing period.
Oral NIM-1324 upregulated expression of mitochondrial metabolism genes, while downregulated markers of phagocyte activation, in correlation with the whole blood transcriptomic signature generated in preclinical therapeutic efficacy programs.
The poster will be available under the "Publications" section of NIMML's website at www.nimml.org and at the ACR Convergence 2023 virtual poster gallery. Additionally, the peer-reviewed accepted abstracts will be published in a special online supplement of the Arthritis & Rheumatology Journal.
About Systemic Lupus Erythematosus (SLE)
SLE is a chronic autoimmune disorder that causes systemic inflammation and organ damage. SLE can affect the skin, joints, blood vessels, kidneys, lungs, brain, and heart, resulting in fatigue, skin rashes or lesions, fevers, arthritis, lung, heart and kidney damage, seizures, and psychosis. SLE symptomatology often results in low quality of life, and 17% of SLE patients will need a kidney transplant. SLE affects over 1.5 million patients in the United States and over 5 million patients worldwide. With more than half of patients experiencing at least one flare per year or presenting persistently active disease, there is an unmet medical need in SLE for the development of safer and more effective therapeutics.
About NIM-1324
NIM-1324 is an oral, systemically distributed, small-molecule therapeutic candidate which activates LANCL2, a surface membrane-associated receptor that is responsible for modulating key cellular and molecular changes tied to autoimmune diseases. By activating the LANCL2 pathway, NIM-1324 increases the anti-inflammatory capacity and stability of regulatory CD4+ T cells while also supporting the metabolic demands of autophagy in phagocytes. To date, treatment with NIM-1324 has reduced the production of interferon alpha in human peripheral blood mononuclear cells (PBMCs) from systemic lupus erythematosus (SLE) patients and provided protection from clinical disease and tissue pathology in mouse models of lupus, rheumatoid arthritis and multiple sclerosis. Phase 2-ready NIM-1324 completed Phase 1 clinical testing where it met all endpoints and demonstrated a dose proportional change in plasma exposure within the therapeutic range with no accumulation.
About Omilancor
By activating the LANCL2 pathway and modulating the interactions between immunological and metabolic signals in immune and epithelial cells, omilancor is a first-in-class, oral, once-daily, gut restricted therapeutic designed to create a favorable regulatory microenvironment in the gut, decreasing the production of key inflammatory mediators and increasing anti-inflammatory functions in regulatory T cells (Treg) within the site of inflammation. Omilancor has completed Phase 2 clinical testing in UC patients showing a clinical remission of 30.4% with a placebo-adjusted 12-week clinical remission rate of 26.7% (p=0.01) for the 440 mg dose. Following demonstration of a statistically significant approvable primary endpoint for clinical remission in an active disease patient population, a global pivotal Phase 3 program (PACIFY I and PACIFY II trials) in UC patients is anticipated by 2023.
About NIMML
The NIMML Institute is a 501 (c) (3) non-profit foundation focused on applying transdisciplinary, team-science approaches to precision medicine. The NIMML Institute applies its TITAN-X advanced A.I. platform to large-scale transdisciplinary projects aimed at solving important public health problems through precision medicine. NIMML combines the expertise of immunologists, computational biologists, toxicologists, computational modelers, translational and clinical researchers, and molecular biologists to translate novel scientific discoveries into medicines for human diseases. The Institute is headquartered in Blacksburg, VA. For more information, please visit www.nimml.org or contact pio@nimml.org.
Media Contact:
Alex Jeffrey/Iain Hughes
Gasthalter & Co.
212.257.4170