Nuria Tubau Juni, NIMML PhD student, Awarded a Doctorate in Genetics, Bioinformatics and Computational Biology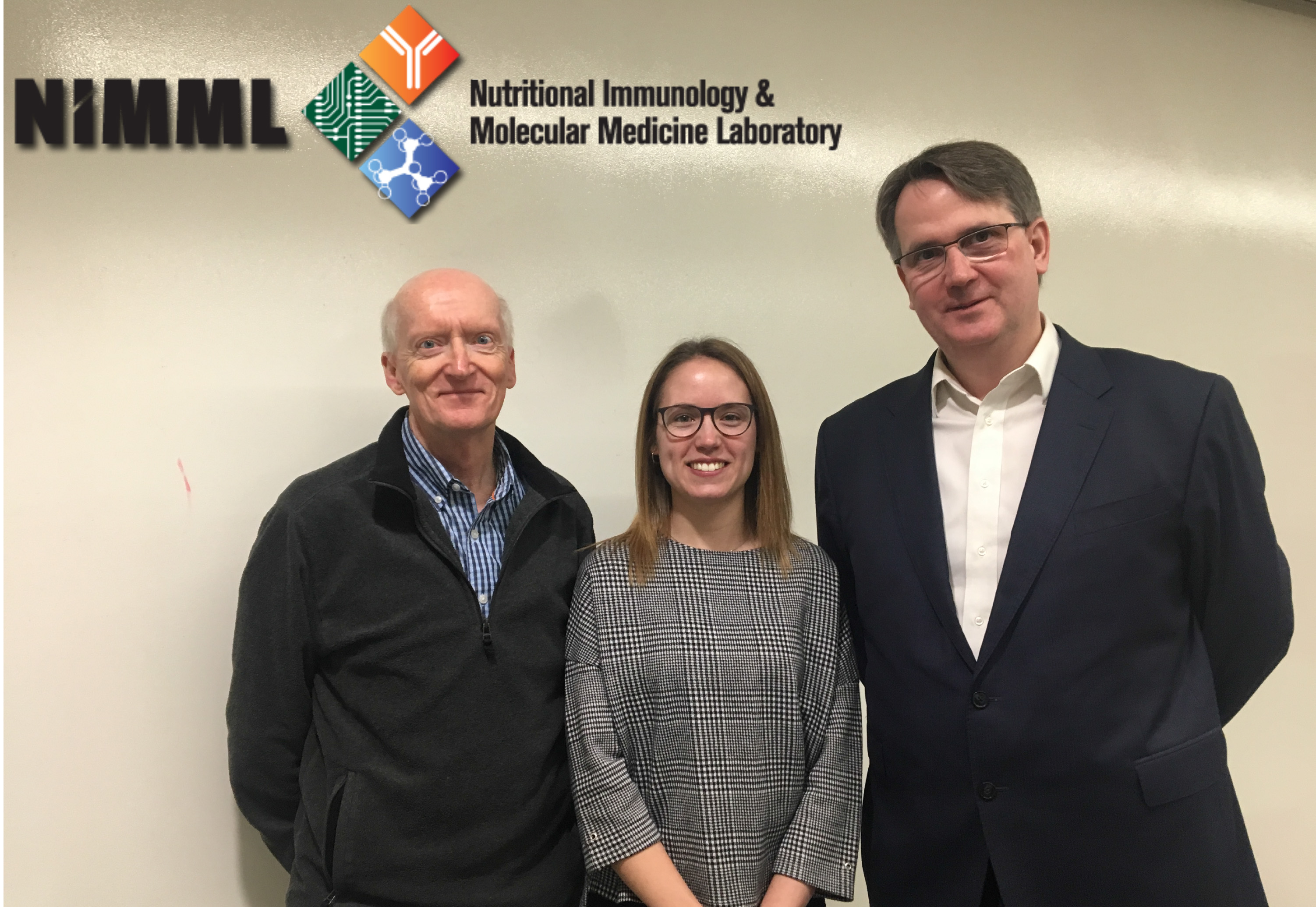 Blacksburg, VA – November 18th, 2019. The Nutritional Immunology and Molecular Medicine Laboratory (NIMML) is pleased to announce that Nuria Tubau Juni successfully passed her final defense and was awarded a Doctorate of Philosophy.
Dr. Tubau Juni joined the NIMML in April 2015 in a translational research program in partnership with the Vall d'Hebron Institute of Research (VHIR) and the Autonomous University of Barcelona during her master studies. She was accepted in the Genetics, Bioinformatics and Computational Biology (GBCB) program in January 2016. Based on Dr. Tubau Juni's outstanding performance during her graduate studies, her advisory committee, comprised of Dr. Bassaganya-Riera (chair), Dr. Raquel Hontecillas (co-chair), Dr. Vida Abedi and Dr. David Bevan, is confident that she will be a very effective researcher and highly successful in her future career endeavors.
Dr. Tubau Juni's research has been focused on the characterization of new regulatory mechanisms and biomarkers in the host-pathogen interaction during enteric infections, including Helicobacter pylori and Clostridium difficile. The ultimate application of her study is the generation of new host-centered therapeutics through the modulation of the immune response as an antibiotic-alternative treatment for infectious diseases. The research stemming from her findings has contributed to over 15 manuscripts and book chapters.
"Nuria exemplifies NIMML's vision by conducting transdisciplinary, problem-solving research at the interface of advanced computational methods and translational immunology experimentation to discover new therapeutic targets and to accelerate the development of new therapeutics for infectious diseases" Said Dr. Bassaganya-Riera, professor of Immunology and Director of NIMML. "We believe the work she has conducted during these last years will be key for the new wave of host-targeted therapeutic strategies to face the emerging multi-resistant strains and shape the design of countermeasures for weapons of mass destruction."
Dr. Tubau Juni earned her B.S. in Biomedical Sciences from the Autonomous University of Barcelona in 2014, and her M.S. Translation Biomedical Research from the Vall d'Hebron Institute of Research (VHIR) in 2015.
Among other success stories, the NIMML has graduated many outstanding researchers: Dr. Amir Guri, a 2008 NIMML graduate who is an attorney at McCloskey, Waring and Waismann LLP, Dr. Adria Carbo, a 2014 NIMML graduate who is Director of business development at Adaptive Biotechnologies Corp, Dr. Monica Viladomiu Pujol, a 2015 NIMML graduate and researcher at the Weill Cornell Medicine, Dr. Casandra Washington, a 2015 NIMML graduate and a researcher at DTRA/DOD and MIT-Lincoln Lab, Dr. Pinyi Lu, a 2015 graduate, Research Scientist at Biotechnology HPC Software Applications Institute, Dr. Andrew Leber, a 2017 graduate, the Scientific Director of Landos Biopharma, Inc., and Dr. Meghna Verma, a 2019 graduate, offered an immune-oncology researcher position at AstraZeneca.
Related Press Releases
NIMML Awards Nuria Tubau a Masters in Translational Biomedicine
NIMML Showcases its Advanced Computational Modeling Platform for Biodefense at the 2019 DTRA Life Science Technical Review
Transdisciplinary Research Fuels NIMML Innovation
Anti-inflammatory Mechanism of Host-Microbiota Cooperation Mediated by Helicobacter pylori
Pigs models: New insights to the lesser-known yet highly translational model
About NIMML
The NIMML Institute is a 501 (c) (3) non-profit public charity foundation focused on a transdisciplinary, team-science approach to precision medicine at the interface of immunology, inflammation, and metabolism. The NIMML Institute team has led numerous large-scale transdisciplinary projects and is dedicated to solving important societal problems by combining the expertise of immunologists, computational biologists, toxicologists, modelers, translational researchers, and molecular biologists. The Institute is headquartered in Blacksburg, VA. For more information, please visit www.nimml.org or contact pio@nimml.org.