Dr. Josep Bassaganya-Riera Speaks at the GBCB Seminar Series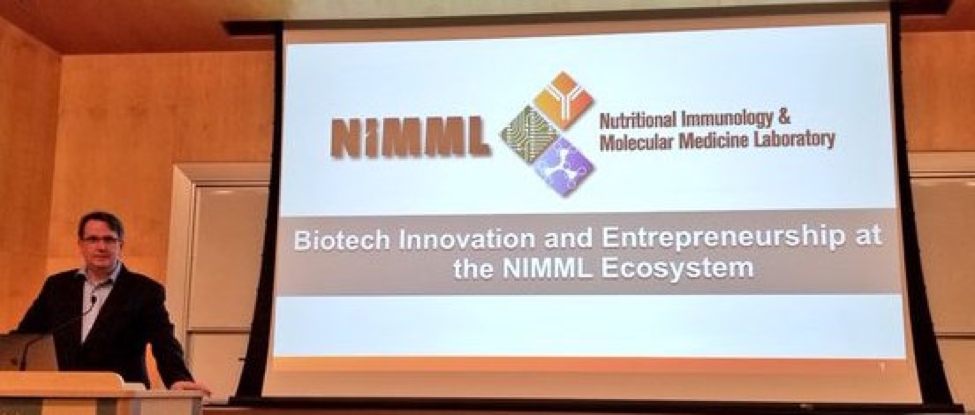 Dr. Josep Bassaganya-Riera, the Founding Director of the Nutritional Immunology and Molecular Medicine Laboratory (NIMML) was the invited speaker for the Genetics, Bioinformatics and Computational Biology (GBCB) seminar series on November 20th. at Steger Hall. His talk was entitled "Biotech Innovation and Entrepreneurship at the NIMML Ecosystem."
Dr. Bassaganya-Riera is a thought leader, innovator, and serial entrepreneur who has founded 3 award-winning Companies (Landos Biopharma, BioTherapeutics and Pervida) and a pioneer Biomedical Research Laboratory (NIMML), raising over $200 million in non-dilutive and equity financing rounds. He has published over 200 peer-reviewed articles, book chapters and books on the acceleration of product development and systems immunology and infectious diseases. His distinctions include recognition as Innovator of the Year and recipient of the Biocomplexity Research Excellence Award. Dr. Bassaganya-Riera's work at NIMML has provided a better understanding of the immune system as a massively and dynamically interacting system and of the immune response to infectious diseases high unmet treatment need. His transformative computational modeling approaches have been found to improve efficiency, decrease costs, and reduce the time required to find treatments for complex human diseases.
Dr. Bassaganya-Riera discussed presented ongoing efforts aimed at building predictive computer models, generating novel hypotheses based on advanced computational simulations, and validating the modeling predictions at the preclinical and clinical levels. These approaches hold enormous potential for discovering unforeseen targets for biodefense to counter Weapons of Mass Destruction (cWMD). The computational backbone for the models and tools presented is pathogen-agnostic, generalizable, and it can help analyze the dynamics of host responses in real-time during an infectious disease outbreak or a bioterrorism attack. He also discussed the importance of NIMML in the broader ecosystem of biotech companies that develop innovative new products for infectious and autoimmune diseases.
"For nearly two decades, the NIMML has become a household name in Virginia and helped build, shape, and grow a thriving biomedical research ecosystem," said Dr. Bassaganya-Riera, Director of NIMML. "In 2010, we embarked in pioneering biodefense research under the NIH-funded Center Modeling immunity to Enteric Pathogens (MIEP). The ongoing partnership with DTRA is building on the successes of the MIEP program to develop generalizable computational models of host response to pathogens. Given the need for a fast response in the context of a potential bioterrorist attack, our main objective is to develop model systems that can be easily generalized and adopted to a wide range of potential threats with minimum modifications."
Dr. Bassaganya-Riera also discussed the NIMML's role in providing experiential learning opportunities to hundreds of undergraduate students and many outstanding Doctoral graduates: Dr. Amir Guri, a 2008 graduate who is an attorney at McCloskey, Waring and Waismann LLP, Dr. Adria Carbo, a 2014 graduate who became Scientific Director of BioTherapeutics and is now Director of business development at Adaptive Biotechnologies Corp, Dr. Monica Viladomiu Pujol, a 2015 graduate and researcher at the Weill Cornell Medicine, Dr. Casandra Washington, a 2015 graduate and a researcher at DTRA/DOD and MIT-Lincoln Lab, Dr. Pinyi Lu, a 2015 graduate, Research Scientist at Biotechnology HPC Software Applications Institute, Dr. Andrew Leber, a 2017 graduate, the Scientific Director of Landos Biopharma, Inc., Dr. Meghna Verma, a 2019 graduate, offered an immune-oncology researcher position at AstraZeneca, and Dr. Nuria Tubau-Juni, a 2019 graduate who will become a Research Scientist at Landos Biopharma, Inc.
Related Press Releases
2017 RBTC Innovator of the Year Award
NIMML presents at DTRA Life Science Technical Review
NIMML awarded a new DTRA grant
NIMML awarded an IDIQ contract from NIAID
Meghna Verma, NIMML PhD student, Awarded a Doctorate in TBMH
Nuria Tubau Juni, NIMML PhD student, Awarded a Doctorate in Genetics, Bioinformatics and Computational Biology
About NIMML
The NIMML Institute is a 501 (c) (3) non-profit public charity foundation focused on a transdisciplinary, team-science approach to precision medicine at the interface of immunology, inflammation, and metabolism. The NIMML Institute team has led numerous large-scale transdisciplinary projects and is dedicated to solving important societal problems by combining the expertise of immunologists, computational biologists, toxicologists, modelers, translational researchers, and molecular biologists. The Institute is headquartered in Blacksburg, VA. For more information, please visit www.nimml.org or contact pio@nimml.org.